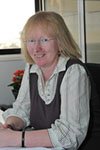 Senior Manager, Accounting & Non Assurance Services
B.A. (Hons) Business Studies, ACA
Sharon was born in South Wales, UK, in 1965 where she completed her high school education. She then moved to Oxford to study for a BA (Hons) degree in Business Studies. After graduating in 1987 Sharon worked for a firm of chartered accountants in Reading as an auditor while studying for the professional examinations of the Institute of Chartered Accountants in England and Wales (ICAEW), successfully qualifying as an ACA in 1991.
In 1992 Sharon's career moved into business, starting as an accountant for a major UK private hospital and then, in 1995, as Management Accountant and eventually group accountant for major multinational companies gaining experience in group finance and consolidation for subsidiaries based in Europe, USA, India and Taiwan and in the preparation of management accounting reports for international subsidiaries and group reporting.

Sharon moved to Cyprus in October 2001 to join the UHY group as a senior accountant bringing her extensive experience of finance and accounting for international businesses to the team. She is now an integral member of the senior management and heads up the Accountancy and Non Assurance Services Department.