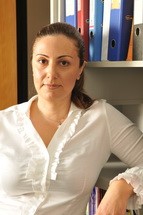 International Business Development Manager
B.A. (Hons) Economics, M.Sc. International Finance
Katia was born in 1970 in Nicosia, Cyprus. After graduating from the English School of Nicosia in 1988, she pursued her university studies in the U.K. where she graduated in 1991 with a Bachelor's degree in Economics from the University of East Anglia, Norwich. She then proceeded to do a Masters degree in International Finance at the University of Surrey, Guildford. On completing her studies, in 1992, she moved back to Cyprus, where she joined the CosmoServe group in April 1994.

Katia is responsible for the overall development and operation of the international business section, including our network of associates in worldwide jurisdictions. 
Katia speaks fluent Greek and English.